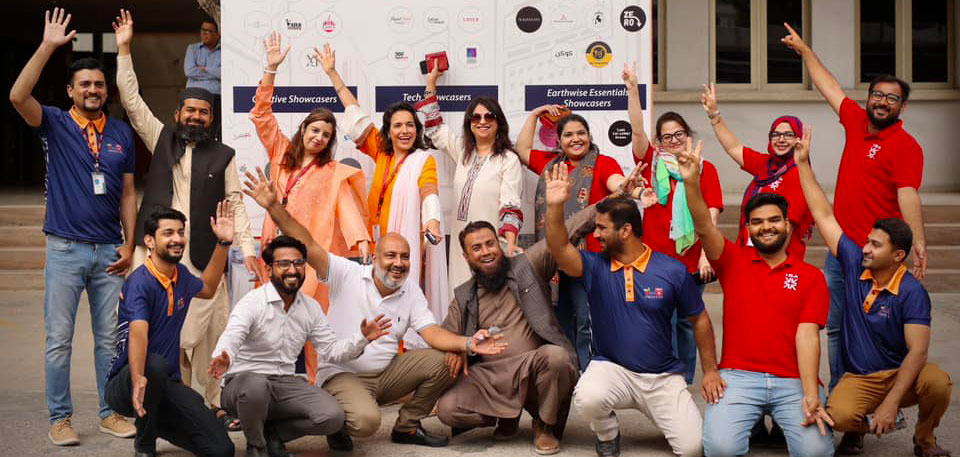 Each November 10 million people and 200 countries take part in forty thousand of activities, competitions and events that inspire them to act and provide them with the knowledge, experience and connections they need to succeed.
While GEW only takes place one week each year, the connections made are long- lasting. The campaign serves as an opportunity to collaborate and engage with organizations and individuals across the world to celebrate and spotlight entrepreneurs, expose people to the path of entrepreneurship, help them get started and facilitate access to capital and the resources to grow.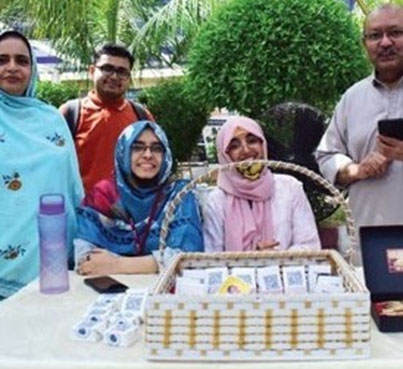 Center for Entrepreneurial Development (CED) at Institute of Business Administration envisioned to be Inclusive and Impactful while celebrating the campaign from 13th till 19th November 2023 along with our visionary partners who are willing to support us making it even more impactful.
IBA-CED pledges to present one entrepreneurial ecosystem in Pakistan open to all, including smaller cities in emerging economies and under- represented communities, whether systemically marginalized, geographically hard-to-reach or otherwise pushed aside or left out. This national campaign will drive by events and activities, planned and tailored to our community's needs.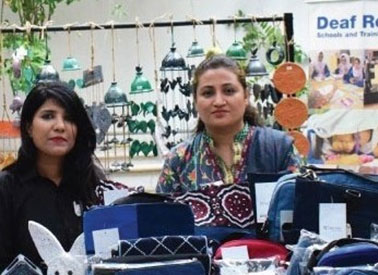 FORMAT:
Keynote speeches, panel discussions, two exclusively designed workshops for university faculty, IBA's flagship - Startup competition INVENT along with networking sessions.
TARGET AUDIENCE:
The Global Entrepreneurship Week at IBA is designed to bring together over 1500 professionals from industry and corporates, representatives from government bodies, NGO's and higher education institutes.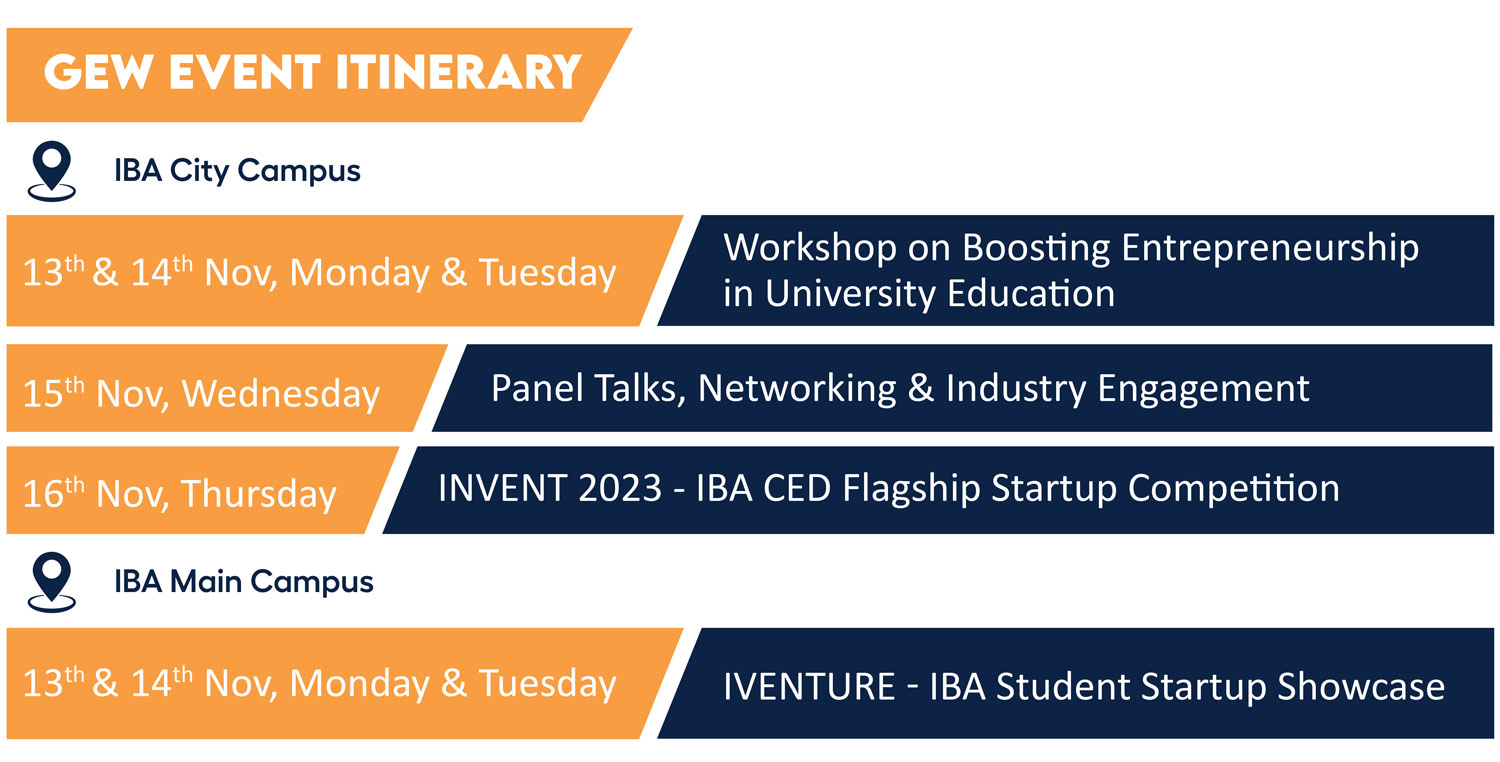 Primarily, it aims to enhance participants' comprehension of developing and implementing entrepreneurship education within higher education teaching. Additionally, the workshop seeks to assist attendees in integrating entrepreneurship competencies, behaviors, and culture across various academic departments. Secondly, the workshop emphasizes employing diverse pedagogical approaches to support entrepreneurial competencies, fostering an open-minded approach among students to create new value and apply their competencies entrepreneurially in diverse organizational contexts.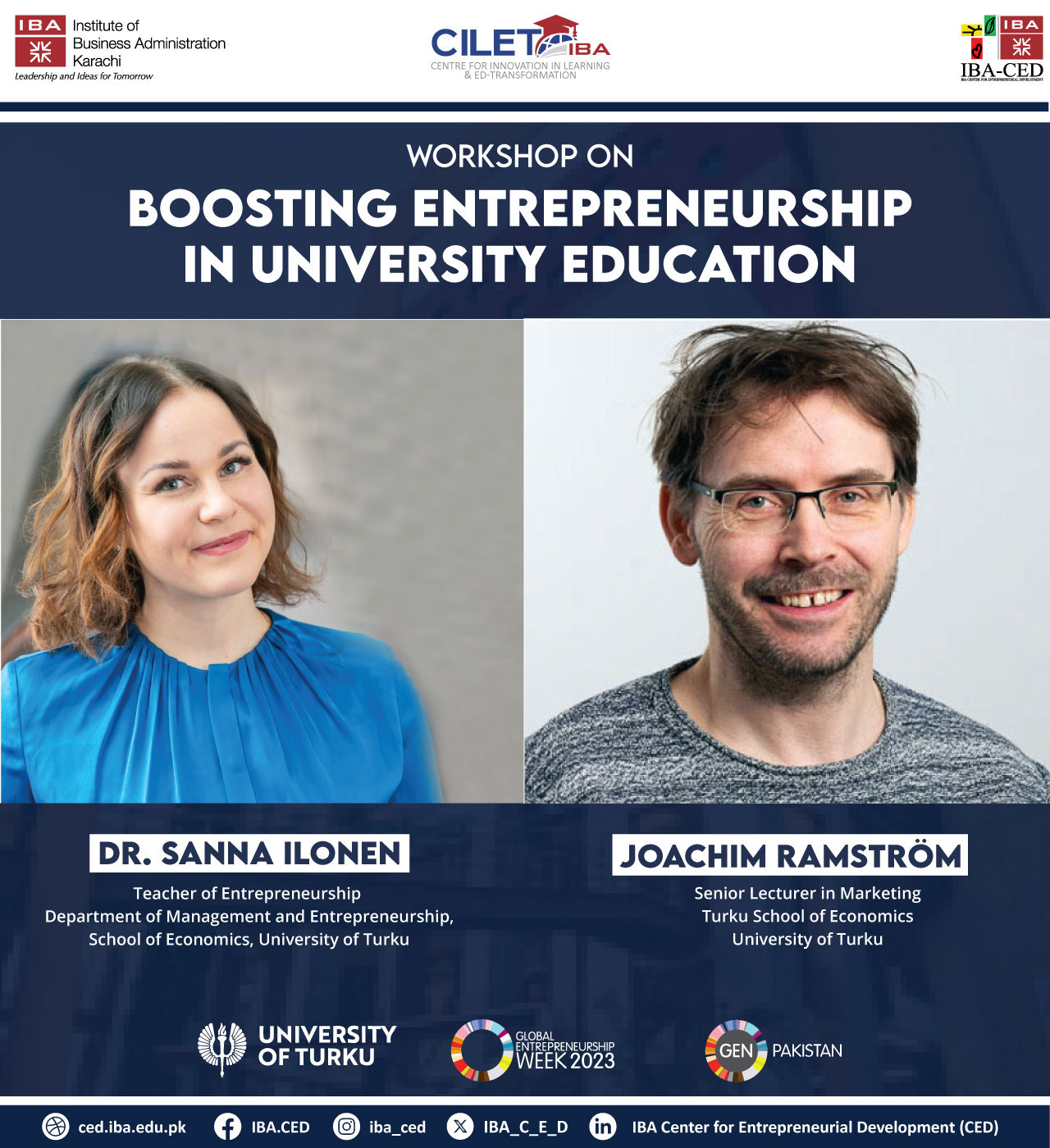 ABOUT FACULTY
Joachim Ramström
Senior Lecturer in Marketing
Turku School of Economics.
University of Turku
Faculty Profile:
For more than 15 years, Joachim has dedicated himself to Entrepreneurship Education. He's deeply engaged in learning methodologies, particularly team-based and project-oriented approaches, as well as programs aimed at developing entrepreneurship coaches. With a PhD in International Business and Strategy, his expertise lies in cross-cultural business relationships within Southeast Asia. Presently, his research focuses on enhancing team and entrepreneurship learning within university settings and the development of practical competencies for the professional world during university education
Dr. Sanna Ilonen
Teacher of Entrepreneurship
Department of Management and Entrepreneurship,
School of Economics, University of Turku
Faculty Profile:
Dr. Sanna Ilonen, a university teacher and Entrepreneurship Program lead, has dedicated over 10 years to entrepreneurship research and education in higher education. Her research focuses on entrepreneurship education and work-life balance for serial entrepreneurs. Dr. Ilonen has been published in esteemed international journals and successfully defended her dissertation in 2020. She's a passionate educator, recognized for teaching excellence, and actively contributes to the Finnish Scientific Association for Entrepreneurship Education as a board member and the chair of the National Entrepreneurship Education Conference organizing committee in Turku.
---
WHO SHOULD ATTEND?
Higher Education Faculty and Researchers
Educational Management Personnel
Deans, Directors and HODs
Heads of Departments
Business Incubation Managers
and those interested in Entreprenurial Teaching and Research
The workshop is designed primarily for higher education faculty members and researchers who wish to enhance their teaching methods to nurture entrepreneurial competencies among their students. Additionally, it offers management and deans valuable insights into the responsibilities and contributions of educators in the realm of entrepreneurship education.
---
KEY LEARNING OBJECTIVES
Day 1: Foundations of entrepreneurship education
Main elements of entrepreneurship education
The pedagogy of entrepreneurial learning
Learning processes in entrepreneurship education
Entrepreneurial competences and learning outcomes of entrepreneurship education
Transformation from teacher to process coach
Day 2: Implementation of entrepreneurship education
Entrepreneurial learning processes in practice
Teacher's role in implementing entrepreneurship education
Assessment in entrepreneurship education
Different models of entrepreneurship education
Entrepreneurship education action plan or entrepreneurship research possibilities
---
SCHEDULE
Date: Monday 13th November & Tuesday 14th November 2023
Time: 10 AM - 05 PM
Event Venue: IBA CITY CAMPUS
INVESTMENT
THE PROGRAM FEES: PKR 70,000/- (EXCLUDING APPLICABLE TAXES)
LIMITED SEATS. NOMINATIONS ON FIRST COME FIRST SERVED BASIS ONLY.
GROUP DISCOUNT: 10% (FOR A GROUP OF 5 OR MORE)
EARLY BIRD DISCOUNT 15% (REGISTER BEFORE 15TH OCTOBER 2023)
Note: All 'Exclusive' or 'Early Bird' discounts are subject to availability and require payment before the deadline date in order to receive that discount.
---
PROGRAM INCLUSIVE OF:
Course Material
Lunch and Tea
Socializing & Networking Opportunity
Group Photograph and Certificate of Attendance
---
Note:
For more information regarding registration process, please feel free to call registration focal person
Asghar Azmi
Project Consultant |IBA Center for Entrepreneurial Development
: +92 (21) 38104700 Ext: 2717
(+92) 300-9252885 (WhatsApp)
(+92) 321-9252885
maazmi@iba.edu.pk | https://www.iba.edu.pk
Panel Talks, Networking & Industry Engagement
I) Ecosystem Enablers Unveiled: Government and Development Impact on Entrepreneurship
This panel session sheds light on the crucial roles that government bodies and development organizations play as enablers within the entrepreneurial ecosystem. The session aims to explore how effective policies, initiatives, and support from these entities can catalyze innovation, foster economic growth, and create an environment conducive to entrepreneurship. Through insightful discussions, the panelists will illuminate the ways in which government and development efforts empower entrepreneurs, drive sectoral development and shape the future of businesses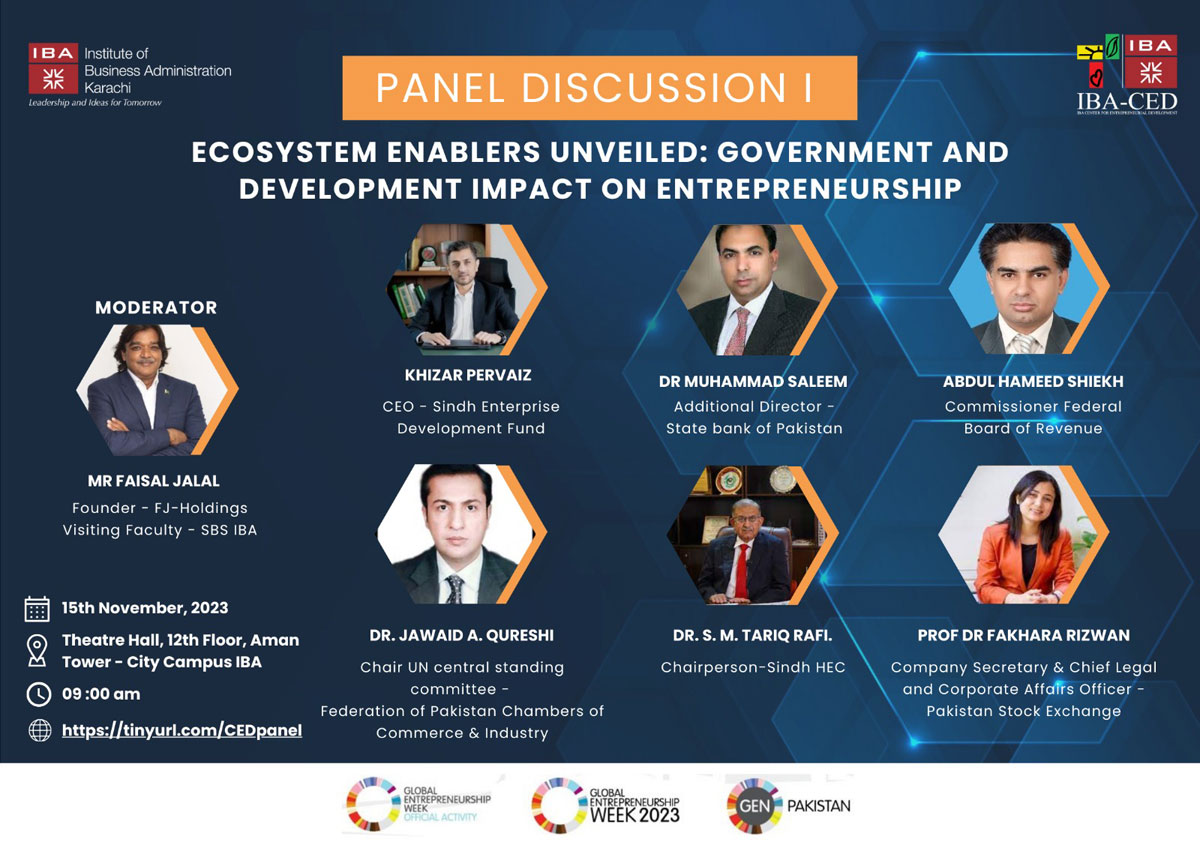 II) Economic Empowerment: Financial Institutions, VCs, and the Entrepreneurial Ecosystem
This panel session focuses on the critical role played by financial institutions, banking sectors and venture capitalists (VCs) in fostering economic empowerment within the entrepreneurial ecosystem. The session aims to illuminate how these entities contribute to the growth of startups, drive innovation, and create pathways for sustainable economic development. Through dynamic discussions, panelists will shed light on how financial institutions and VCs collaborate to provide funding, expertise, and strategic support, enabling entrepreneurs to thrive and make lasting contributions to the economy.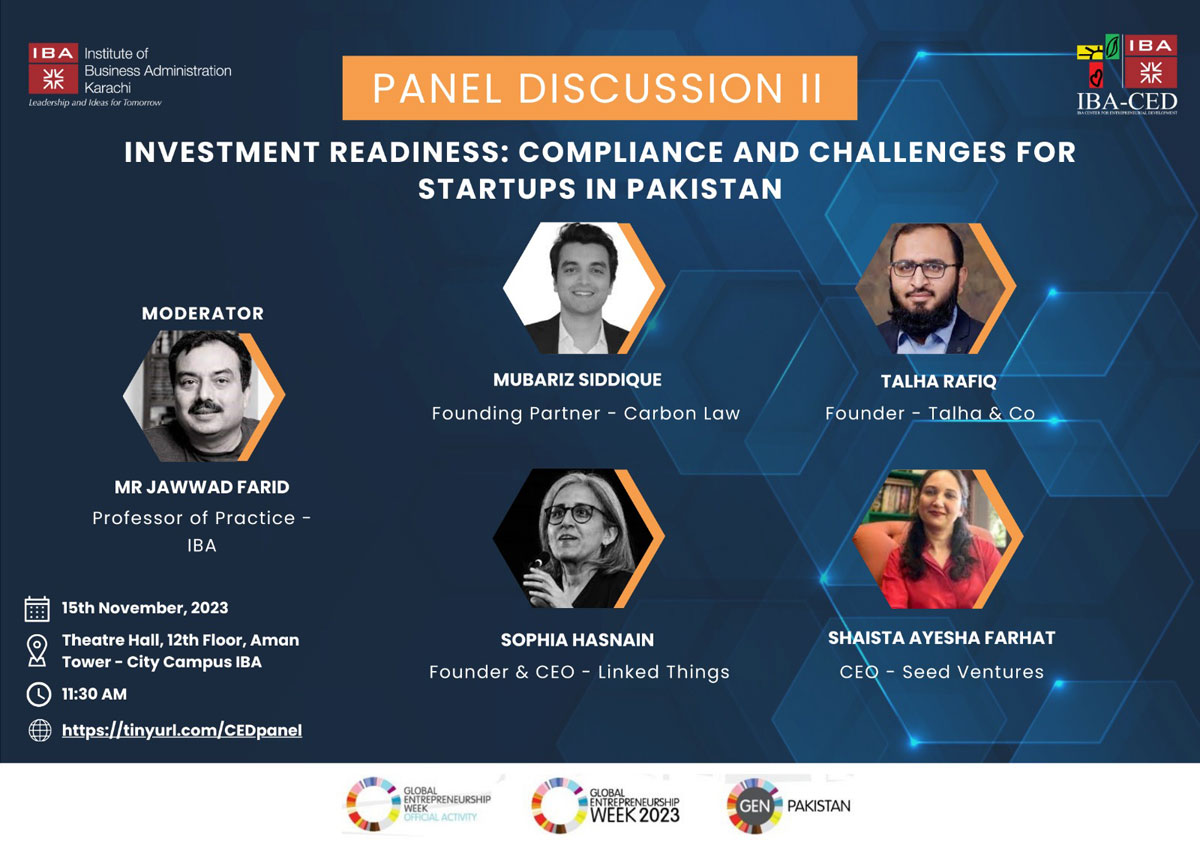 III) Women empowerment through inclusive and diversified entrepreneurship
This panel session will delve into the intersection of inclusivity, social entrepreneurship, women's empowerment, and sustainability. It aims to highlight the crucial role that entrepreneurship plays in creating a more inclusive and sustainable world, with a specific focus on empowering women. The session will explore how innovative business models, driven by a social mission, can address societal challenges, promote gender equality, and contribute to long-term sustainability.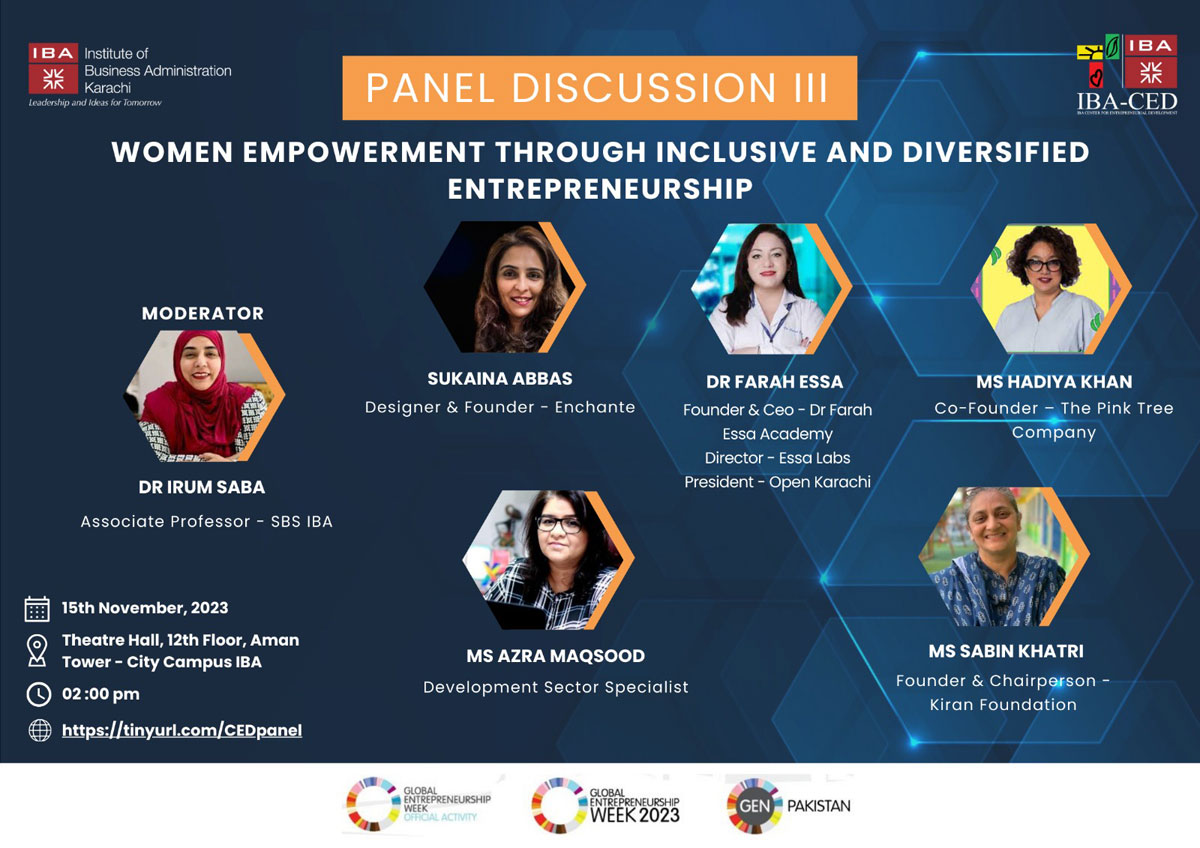 INVENT 2023 – IBA CED Flagship Startup Competition
The INVENT is the pioneer startup competition in Pakistan that roots back to 2009, when its maiden voyage was started by the IBA Center for Entrepreneurial Development (CED). Since then, INVENT is synonymous to an ecosystem that connects the dreamers, innovators and entrepreneurs with a network of investors, corporations, and mentors to help them showcase their ideas to the world, raise capital, launch corporate collaborations, and scale their world-changing startups.
As in the previous years, drawing from the United Nations Sustainable Development Goals (SDGs), INVENT 2023 will be offering a massive opportunity to the existing startups throughout Pakistan. The INVENT 2023 will be fostering innovation, recognizing groundbreaking ideas, and promoting entrepreneurial excellence within the entrepreneurial ecosystem of Pakistan.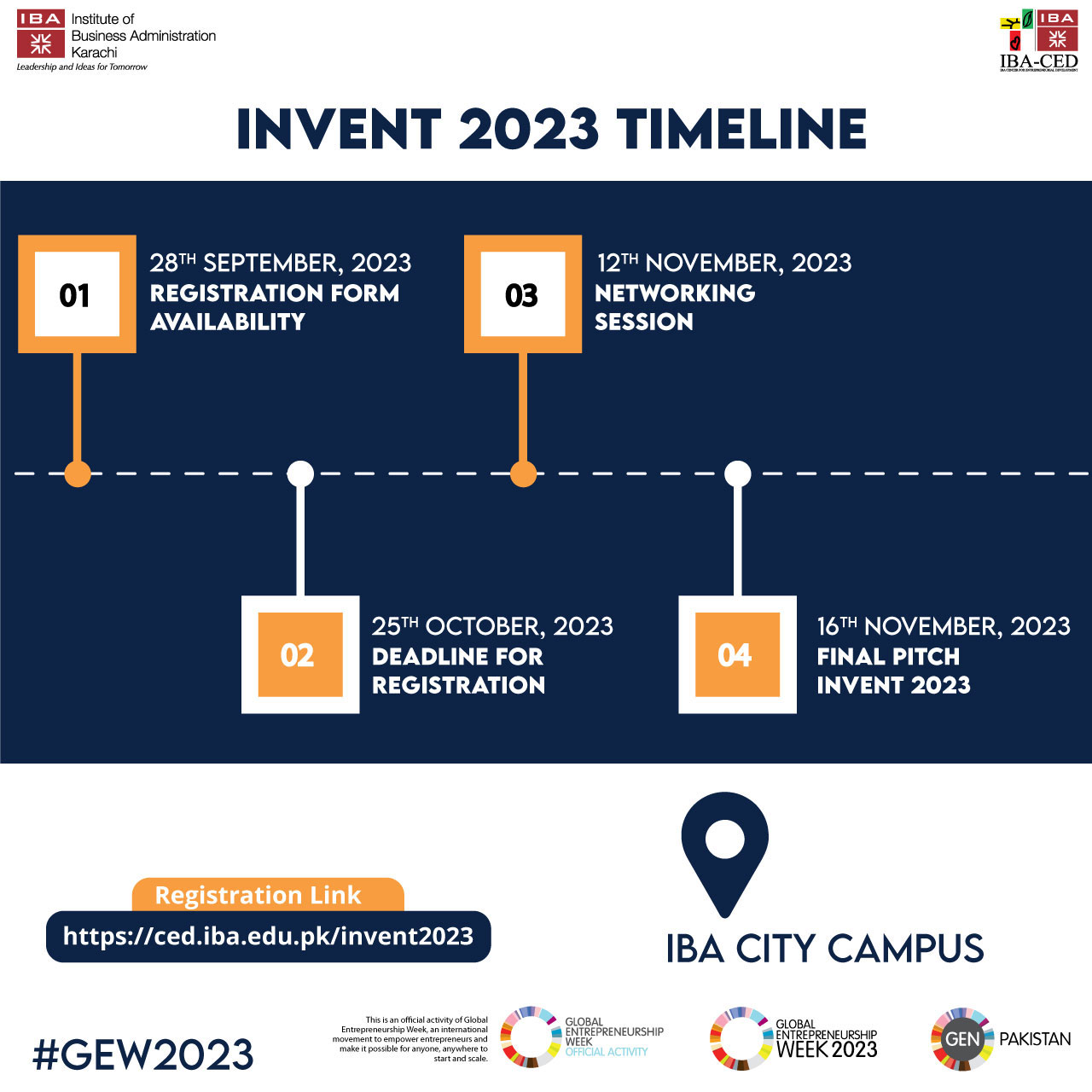 IVENTURE - Startup Showcasing
IVENTURE is returning for another round of innovation and entrepreneurship during Global Entrepreneurship Weeks (GEW) 2023!
As you already know, IVENTURE is an exceptional Student Enterprise Development (SED) initiative brought to you by the Center for Entrepreneurial Development (CED) at IBA. And this time, we're taking it up a notch!
IVENTURES provide a platform for students to unveil their innovative ideas, connect with like-minded peers and esteemed faculty members, and receive valuable feedback. This exhibition space serves as a catalyst for fostering an entrepreneurial culture, motivating students to transform their ideas into thriving businesses. Moreover, it offers the potential to attract potential investors who can contribute to the growth of their businesses. It is an exclusive and completely cost-free opportunity for IBA students. If you are an IBA student eager to showcase your entrepreneurial endeavors, don't miss out on this extraordinary chance.
What's in Store:
A second wave of IVENTURE that promises even more opportunities and excitement.
IVENTURE will take place on 13th & 14th November, at IBA Main Campus
A bustling atmosphere filled with entrepreneurial energy, providing IBA students with the perfect platform to showcase their ventures.
Don't miss this chance to shine!