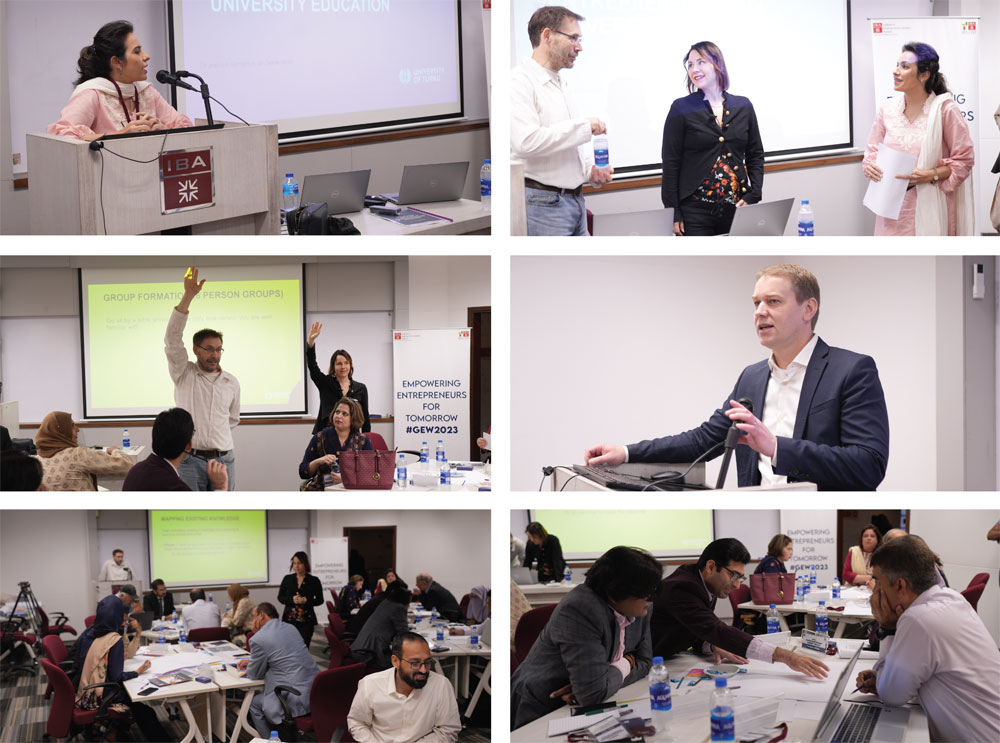 It is with immense pleasure that we announce the commencement of Global Entrepreneurship Week (GEW) 2023 at the Institute of Business Administration's (IBA) Center for Entrepreneurial Development (CED). This week-long celebration kicked off with a captivating workshop titled "Boosting Entrepreneurship in University Education," featuring esteemed trainers from the University of Turku, Finland.
Dr. Lalarukh Ejaz, the Director of CED, welcomed a dynamic and accomplished audience, including international and national faculty members. In her opening remarks, she emphasized that GEW is not merely an event; rather, it is a celebration of innovation, collaboration, and the boundless potential within each aspiring entrepreneur.
In attendance were Dr. Sanna Ilonen, Teacher of Entrepreneurship, Joachim Ramström, Senior Lecturer in Marketing, and Ari Koski, Account Manager, all from the University of Turku. Their insights promised an engaging exploration of innovative approaches to integrating entrepreneurship into university education, fostering a spirit of innovation and collaboration among students. Participants from IBA's own faculty, Punjab University, IoBM, NED, Karachi University, and beyond will engage in activities designed to empower and inspire.
The workshop, in particular, delves into innovative approaches to integrate entrepreneurship into university education, aiming to foster a mindset of creativity and enterprise among students.
The week's agenda includes a diverse array of events as mentioned below:
Panel discussions - 15th November 2023
Iventure startup showcasing- 13th and 14th November 2023
Invent: IBA CED Startup Pitch Competition - 16th November 2023
As we embrace the spirit of entrepreneurship, the IBA CED seeks to create meaningful connections and pave the way for a future filled with innovation and success. Throughout the week, participants are encouraged to seize the opportunities presented, connect with like-minded individuals, and absorb the wealth of knowledge shared.